Gena Livings, WOW Director of Fitness
Providing WOW Members Expertise in Health & Wellness
For eighten years I worked in a high end, fast paced corporate environment that left me feeling drained and depleted of all my life energy.
I spent a good part of my life just sleep walking throughout my day, feeling dazed and disoriented, eating foods that weren't particularly good for me, watching too much TV and paying little attention, if any at all, to my health and well-being. I slowly felt my self-esteem slipping into the woodwork, as my body became tired, drained, lethargic and apathetic. I began to feel completely devoid of any meaning or higher purpose.
With all the external pressures and pervasive messages to climb the corporate ladder in order to have more, get more and achieve more, it eventually took its toll on my peace of mind, body and spirit.  This way of merely surviving was out of balance and lacked harmony with my true wants, desires and dreams. Life for me held little meaning as I continued to fall prey to self-sabotaging thoughts and habits that all led towards poor lifestyle choices. I wanted to find a better way of being and I wanted to live my life in a way that promoted a healthier lifestyle.
Knowing that I had to find a better way of becoming both professionally, physically and emotionally in order to establish a lifestyle that was more congruent with my innermost wants and desires, I decided to make a drastic change and leave Corporate America and set out on a new journey.  Without looking back I mustered up enough courage to quit my corporate job of eighteen years and all the security that went along with it and enrolled myself into Bryan College where I studied health and fitness. It was there that I obtained certification as a Health and Fitness Professional and then went on to work as a Personal Trainer for one of the leading health clubs in the greater Sacramento area of Northern California.  I gained valuable experience working as a Personal Trainer by working one on one with individuals from all walks of life, varying levels of fitness and health related components.  Today I own my own business as a Lifestyle Modification Coach.  I do what I love by expressing myself through coaching and inspiring others to achieve a lifestyle that promotes health and well-being as a better way of life. ~Gena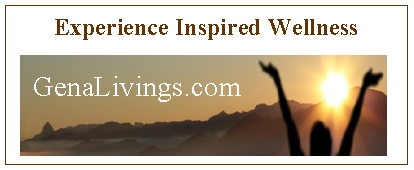 Visit me online at www.GenaLivings.com