Believe in yourself and go for it! by Marisha Barber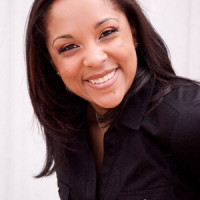 This past weekend I traveled to Dallas, TX to do some social media training with the one and only Chalene Johnson, creator Turbo Jam, ChaLene Extreme and Turbo Fire. I was incredibly nervous since, as some of you know, Chalene is a great motivational trainer in fitness and in life but she's also no nonsense. I didn't want to do anything that that could have the slight possibility of disappointing her so for the entire four hours I took copious notes and tried to sit up extremely straight which took a lot of concentration since I could probably win an Olympic gold medal for chair slouching.
I brought my camera, my Turbo Fire DVD set and social media workbook in the hopes that she would sign everything but by end of the four hours I had talked myself out of it. I let my nerves get the best of me! I was about to pack up when I saw a woman walk up to Chalene with her set of Turbo Fire DVDs and I thought, "If she can do it, I can do it." I asked Chalene not one, not two, but three times for her autograph. She also took a minute to pose for the attached photo. She was extremely nice about it and we had a pretty decent conversation. What it was about I couldn't tell you now but I was so glad that I got over my nerves and went for it. If I hadn't taken that opportunity to jump out of my shell, I would have regretted it for a long time.
Have you ever gotten intimidated when you watch really fit people at the gym or on DVD? Personally I've never met anyone who was born that way. We all have to start somewhere in order to reach our health and fitness goals. Don't let your nerves get the best of you and do your best! The road will have some bumps, twists and turns but you'll get there in the end and have some great 'after' pictures to show for it ? and no regrets.
Wishing you a FIT day!
Marisha Barber
Independent Team Beachbody Coach303-618-9514
[email protected]
http://www.infectiousenergy.com