Comfort and Connections Series Part 4: Managing Your Portfolio | W\O/W Webinar (20 Sep 2012)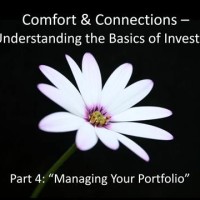 Roni Greiff Nelson is the Director of Operations and Senior Portfolio Manager who specializes in designing and managing customized investment portfolios for clients.
Bonnie Gortler, is Senior Portfolio Manager and a frequent guest editor of Systems & Forecasts investment newsletter and holds an MBA in Finance.
** Both Roni and Bonnie manage multi-million dollar client portfolios, and have each been with Signalert Asset Management for more than 30 years.
WHO SHOULD ATTEND
The webinar has been especially developed for those looking to gain a greater understanding of their finances, investments and the stock market so as to make better long term financial decisions.
Source Article from http://www.wownetworkalliance.com/Events/Training?eventId=537236&EventViewMode=EventDetails