Reciprocity in Action: 7 Days of Blogging to Grow Your Business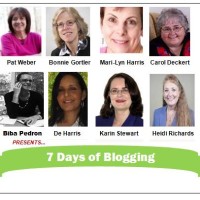 WOW is super excited to share with you that on Monday, Oct. 3rd we will launch an incredible online event in partnership with WOW JV Partner, Biba Pedron, who has asked 7 incredible women coaches, all experts specialized in networking, marketing, blogging, social media, and time management to share with you their best tips, insights and expertise to help you grow your business. This awesome is the perfect opportunity that will allow you for 7 days straight to stock pile your own arsenal of pure knowledge that you can apply now!
How this works is that through active collaboration and cooperation we will all publish an article from the other women on each of our perspective blogs. How hot is that? This means that by the end of the week we will have delivered over 56 articles with everything you need to know in order to implement some action behind all the noise so you can grow within your personal and professional life – a step-by-step map with no way to get lost or take a wrong turn. Now that is the power of RECIPROCITY in action!!
Be sure to take full advantage of this powerful online event by subscribing to the WOW Mailing List >Here<
Subscribe to each of the women below for even more inside information:
Biba Pedron – http://yourbusinessinstyle.com
Mari-Lyn Harris – http://heartatworkonline.org/
De Harris – www.DeHarrisOnline.com
Heidi Richards – www.WeMagazineForWomen.com
Bonnie Gortler – www.BonnieGortler.com
Carol Deckert – http://www.carolconnectspeople.com/
Patricia Weber – http://www.PatriciaWeber.com
Karin Stewart – http://www.DailyMastery.com
Biba Pedron – http://www.yourbusinessinstyle.com