Relationships: Personal vs. Business by Terrice Blackwell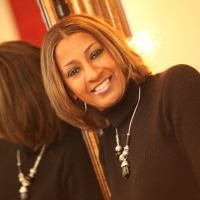 This past weekend, I was blessed with an opportunity to speak to a group of women that were a part of The Children's Restoration Network, Roswell Chapter. This chapter's motto is "Going from Homeless to Wholeness". As I prepared for this presentation, I considered their intimate and very personal situations. Though, I've never been homeless, I've definitely encountered situations that caused me to question my "wholeness".
With this said, I strongly considered who I should invite to this event. Of course, my girlfriends (BFF's) but I've also established very good business relationships with other ladies. Ladies that I truly enjoy what they're doing and how they're doing it, in a business respect. Ladies that I can definitely laugh and chat with, but do I know them personally? Do they really know me? Well, I decided to stick with my BFF's. Though I have great relationships with my business associates, I feel as though there is a line that separates the two. Sunday's event was very personal to me and it was not a business or networking event. Can we separate business and personal relationships without offending anyone? Am I the only one dealing with this issue?
Dictionary.com has defined "Networking" as: a supportive system of sharing information and services among individuals and groups having a common interest. I meet a lot of people that share my common interests but should they be in my inner circle? Should I start inviting my BFF's to my business functions? My business is my job and networking is a part of my job! When I network, I'm working! So the people that I've established great business relationships with, are they friends or my business associates?
As we network to grow our businesses, everyone we meet should not be in our inner circle and we should not be in theirs. Though we may get along extremely well, by no means should we assume we will be invited into their personal space. Please, don't take this personal, it's business! Topic from our Protocol for Professionals Workshop. Stay tuned for summer dates.
Get answers to some of your questions (send a note) at TEA's Tips from Terrice's Etiquette Corner and start making plans to join us today! Because "what you don't know will cost you"!
Terrice Blackwell of The Etiquette Advantage