Biba Pedron, WOW JV Partner
Providing WOW Members result oriented networking strategies
WOW Network JV Partner, Biba F. Pédron is a Marketing Consultant, founder of Biba4Network, who is also known as "The Connection Queen". She helps solo-entrepreneurs to maximize their networking results and reveal proven strategies to attract more clients and double their business with simple but effective networking system.
For over 15 years, Biba has served as a sales and marketing manager for a number of companies in her native country France. Recognized as someone who powerfully connects with people, professionally and socially, Biba brings her successful networking techniques to both sides of the Atlantic.
Biba's motto is "Stop looking for a job, and start your own business doing what you love. I started companies in both France and the United States, my experience can save you lot of time and money."
She has managed numbers of salespeople in different companies before she started her first business F.P Communication in April 1998, where she helped dozens of her clients—mainly small business owners—grow their businesses through telemarketing. She brings her personal experience, know-how, energy and sensitivity to her clients who are typically experts in their chosen fields. Biba helps clients structure, organize and grow their businesses.
Biba is well-known for her unique blend of business networking through her own company Biba4Network. She organizes meetings on a monthly basis throughout the greater New York Area. The events provide entrepreneurs and small business owners the opportunity to meet each other in a structured setting, exchange ideas and resources. Biba makes a concerted effort to create the right environment that fosters growth and development and strives to help her members meet the right partners for their businesses.
Multi-entrepreneur, Biba is also the founder of MyFrenchNetwork.com, a one-stop-shop to help French entrepreneurs to start their businesses in the US, and InvestmentPropertiesNetwork.com a company specializes in real estate investment in Miami, Florida.
Biba is the author of "Start Your Dream Business Today! The Proven 11 Steps to Start and Grow Your Own Business".
And "Power of Networking Secrets" a 5 step Program to maximize your networking results."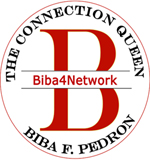 To receive her free mini e-course "15 Ways to Maximize Your Networking Secrets" and Free CD "Networking Know How" go to www.TheConnectionQueen.com.
Discover Five Simply Smart and Affordable Ways to Grow Your Network Biba's Entire Networking Series is available.
Blog URL:
http://www.BibaPedron.com
Business URL:
http://www.TheConnectionQueen.com
http://www.PowerofNetworkingSecrets.com
http://www.startyourdreambusinesstoday.com
 
Business/Social Networking Links
LinkedIN URL:
http://www.linkedin.com/in/bibapedron
Twitter URL:
http://twitter.com/bibapedron