Precious Moments: Shaping Lives Through Friendship by Kathy Cobb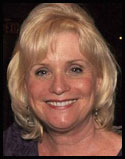 Time seemed to stand still when I watched my daughter, Brittany, receive her Bachelor of Arts in International Studies!  Memories of a darling little bundle of joy flooded my mind as I recalled the first time I held her in my arms. From the moment she looked into my eyes, I was in love and knew my life would be better because of her!  From the beginning, Brittany loved learning and was always fascinated with the world around her.  In her early years, she was exposed to people from around the world that taught her to celebrate the nations!  Of course, at the time I never would have imagined that my international friendships would make such an impact on her life!
Upon this revelation I started thinking about the friendships in my life that have made me a better mother and adult friend to my daughter. Sweet memories of my great grandmother's pioneering s
pirit, my grandmother's determination and my mom's ability to see the best in a person were foundational in shaping my life.  However, there were others: Kay- who helped me discover my spiritual side, Gaye- who spoke words of affirmation, Ellen- the warrior who taught me how to pray, Trisha- my encourager when I felt like a bad mother, Shannon- steady and dependable, Lisa- the one I called when I needed a shoulder to cry on, and Ann- who taught me how important etiquette was in a young girl's life.  When I realized how important my friends were in shaping Brittany's life, I was overwhelmed with thankfulness!
When Brittany approached me after the diploma ceremony, I saw a young woman filled with confidence and in my heart I heard my friends' voices celebrating with me – she's beautiful and we are so proud of the woman she has become!!