Look slimmer NOW with these 5 tips! by Biba Pedron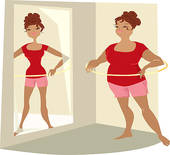 The perfect size does not suit everyone so working on how to look attractive and slim is one of the hardest things to discover especially to women of the business world. A sleek structure is most desired by all women because any kind of fashion style can be worn when you have a slim body.
It is an essential aspect to remember that exercise and the proper kind of diet are the major contributors to feel good and look sexy. For some individuals, taking fitness classes or going to the gym is a good move but for many who do not want to wait on their desired contour, this kind of task should be set aside.
You should consider that you can actually look sexy and slim by wearing the right kind of clothing. This is often overlooked by several women because they are often misled by what is more important which is exercise and diet. Picking the right fashion style is a third factor to remember when trying to be appealing and attractive to everybody's eyes.
Here are some tips to remember to look slimmer with the right clothes:
-Vertical striped clothes can make you look fatter so try to avoid them.
Instead, wear horizontal stripes tops or clothes which makes your body elongated and can produce a thin image on you. In addition to this, horizontal stripes can make your waistline look flat which provides you with a slimmer body than your original appearance. If you have fats in your belly that needs to be hidden, a dark colored with bright horizontal striped clothes is a good match for your body structure.

-To emphasize a sexier body and to have a quick tummy tuck, you need a shape-wear.
A shape-wear is an inner clothing worn before any tops or dresses. It is an elastic type of clothing which creates a flatter stomach and a smoother shape of your body. It can deceive the naked eye and so it is highly recommended to those who want to look good.
-Don't buy baggy or too tight clothes as this will interrupt the smooth shape of your body.
A common misconception of several individuals is that these types of clothes can hide a few pounds of your weight that is why they keep on purchasing them. A well fitted clothe is suggested because, aside from its comfort-ability, it provides you with the right body proportion which allows you to shine from the others. Knowing the exact measurement of your body and consulting one of the many fashion specialists can be of great help when wanting to look slimmer and fit.

-Instead of wearing just one type of clothes, try to experiment and layer your tops. 
In this way, it will hide the unwanted cellulite that protrude when wearing fitted clothing. It is also a good trick to make your shape sexier and creates a flatter stomach in appearance. Jackets and blazers are suggested for most business woman or entrepreneurs who wear fitted clothes underneath to look more professional and sophisticated.
-Purchase bare types of black tops because black is elegant and most especially it gives a perfect illusion of being slim.
Black tops can go along with almost all kinds of accessories to give you several options in your fashion sense and at the same time makes you look thinner. Aside from the black color, dark colored tops such as navy blue, chocolate brown or grey can also make your structure look slim.
-Do not wear flat shoes.
Always purchase footwear with heels because this heightens up your body structure. Higher heels make you thinner so go for those stilettos. It adds height to your legs and lower extremities which makes you as if you're like a model in the runway.
Need help to define your style? Let's talk – Take advantage of the 15min complementary "Get Acquainted" Session – to pick my brain to get new ideas to awaken your personal look to attract more clients and skyrocket your income ? Schedule Your Complementary Session NOW